In our last post, we looked at the unique challenges of performing high-speed, quality inspections in high-volume or low-volume/high-mix manufacturing. Today, we examine several use cases where DWFritz employs advanced non-contact technologies to overcome these challenges.
To surmount these challenges and to meet industry needs, DWFritz integrates advanced technologies to develop high-speed, non-contact metrology and inspection systems. Take the following two uses cases from the consumer electronics and medical device industries.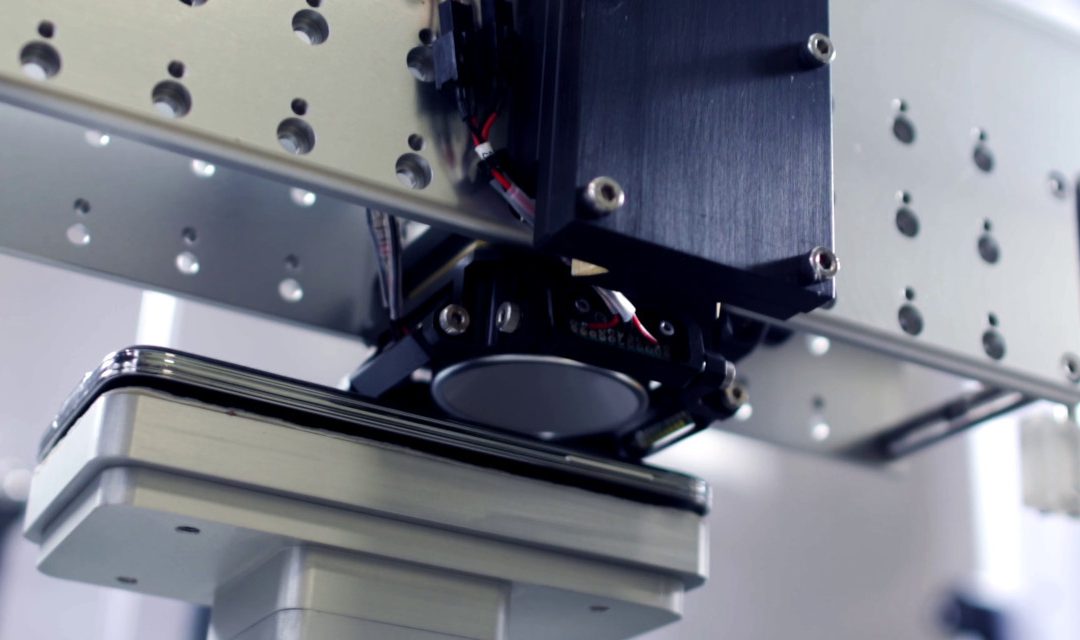 High-speed, non-contact inspection of a hand held device using advanced machine vision and strobe lighting.
Use Case: Hand Held Devices
A consumer electronics customer with an extraordinary commitment to quality that has become part of its brand needed to inspect and sort 100% of the components that go into their device. Their current, manual process required scores of people and a lot of floor space to inspect and sort parts into multiple different sizes for downstream processes.The challenges presented included:
Extremely high volume (>100M parts per year) and throughput (~2 seconds per part)
Close to 1,000 measurement points per part
Micron tolerances ranging from 20-200 microns
Platform consisting of multiple configurable metrology modules
Binning of parts based on measurement results
DWFritz engineers developed a system featuring a variety of metrology sensors and custom strobe lighting using specially designed sensor mounting brackets for modularity and configuration. The system included four different triangulation lasers, two different confocal sensors, multiple 2D cameras, and color and gloss sensors to inspect nearly 1,000 unique features at 2 seconds per part. Machine vision was used for part tracking on conveyors going in and out of the tool for part sorting. With hundreds of machines in operation, our non-contact metrology solutions perform more than 1.8M measurements per hour (more than a billion per year) with parts that never stop moving.
Use Case: Precision Medical Implants
A medical device customer came to us with a small part inspection challenge. They needed 100% inspection of 30 features at a rate of four parts per second for very small medical screws with micron level tolerances. The challenge presented included:
High volume manufacturing (>500M parts) and throughput (4 parts per second)
Up to 30 measurement points per part inspected
Micron tolerances ranging from 20-80 microns
To answer the call, DWFritz developed one of our flagship products, the AMP 3100. Using a 2-nest design to load or unload one nest while inspecting the other, the AMP 3100 uses strobed lighting and maximizes sensor utilization for continuous motion inspections. The system can pick-and-place up to eight parts at a time to perform 432,000 discreet measurements per hour.
The systems designed in the outlined use cases have several key components in common:
Non-contact 3D sensors that can "Measure parts in Motion"
Precision material handling
Machine vision
Custom lighting
Fully integrated, multiple sensors
Modular, full-custom software
Non-contact metrology systems are not just for measuring dimensions and geometries. Our solutions can identify defects on a wide variety of surfaces and materials, perform surface roughness measurements, label inspection, and perform package and seal inspection for foreign materials, seal integrity, packaging breaches, and content verification.
Most importantly, these non-contact metrology techniques and technologies alleviate the most vexing challenges in high-speed inspection and defect detection. Such solutions offer micron-level accuracy, speed, and the flexibility for multiple manufacturing environments by integrating configurable metrology modules using multiple 2D/3D sensors and precision material handling.
Non-contact Inspection and DWFritz
Systems based on non-contact metrology provide a superior solution to challenges posed in not only high volume manufacturing, but also in low-volume/high-mix production environments.Non-contact systems integrate a variety of enabling technologies such as sensors, advanced material handling, custom lighting and machine vision. Beyond ultra high-precision custom automation solutions, we also have a growing family of ZeroTouch high-speed, non-contact metrology system
DWFritz's unique capabilities and expertise in this area that allows us to excel in solving our customers most difficult inspection and advanced manufacturing challenges.