The world has changed—personally and professionally. While the impact of the novel coronavirus pandemic is still being measured and assessed, companies are already discovering new opportunities. Manufacturing companies, in particular, are analyzing their supply chains and exploring new means of risk management.
To gauge the impact of COVID-19 on manufacturers, the National Association of Manufacturers conducted a survey of member companies. The survey focused on the pandemic's effect on their supply chain and operations, financial expectations, and their emergency response plans. The results of the survey indicate:
• 78.3% of manufacturers anticipate a financial impact
• 53.1% of manufacturers anticipate an operational change
• 35.5% of manufacturers anticipate facing supply chain disruptions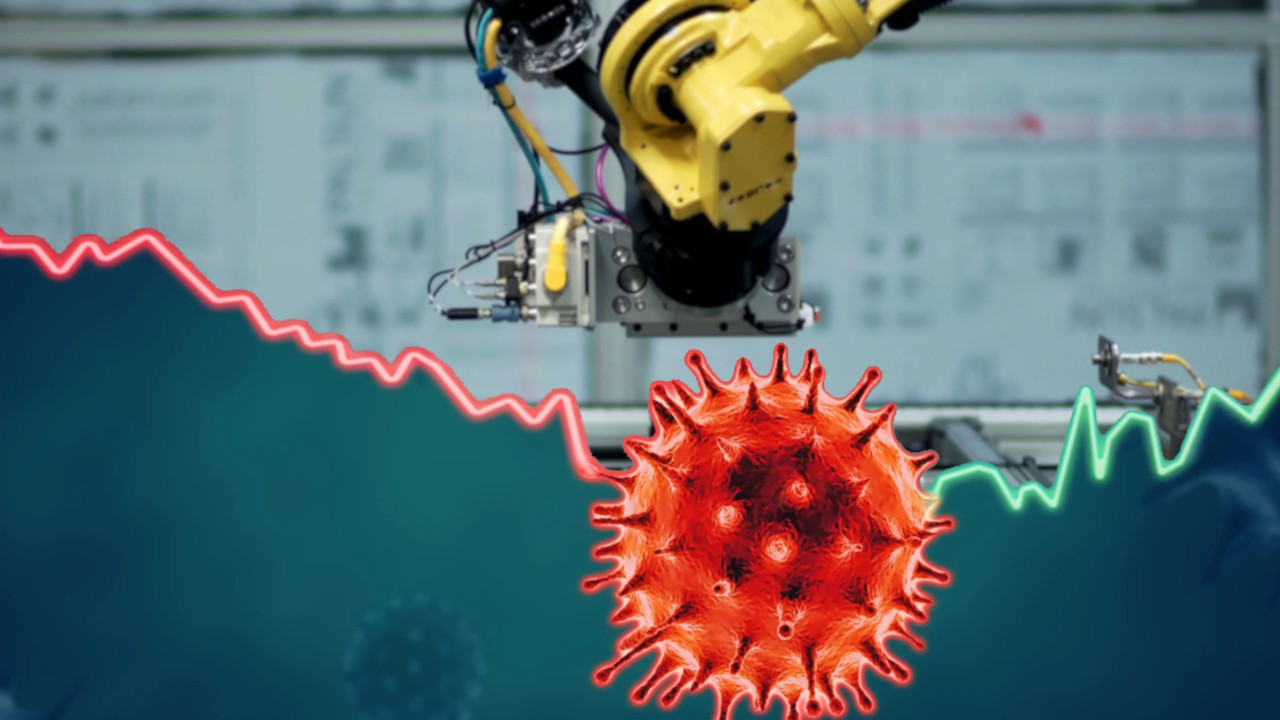 Companies are exploring new ways that technology can synergistically enable human workforces while integrating social distancing standards.
Industry Reactions
Major players in the automotive industry have largely shutdown or shifted production to essential materials by government mandate. While investment in automotive manufacturing is on hold, these companies are looking to the future and planning new ways to automate once business is back on track.
Long before the COVID-19 pandemic, the aerospace industry was going through some challenges. Now, the industry is feeling the impact of reduced air travel, plummeting airline revenues, and deferral of orders and deliveries of aircraft.
Contrary to other industries, medical device companies have been in a continual ramp up mode to address shortages in critical medical supplies. Companies are prioritizing products and devices for the current and future pandemics, with associated investment in automation equipment to reach expanded production goals.
As more employees work remotely, the market for computers, monitors, and other home office products is booming, increasing the pressure on consumer electronics manufacturers to resolve supply chain problems. With business travel significantly reduced and supply chains in chaos, the consumer electronics industry has redirected investments into pilot builds in the U.S.—mitigating travel and supply challenges from countries such as China.
Beyond the consumer electronics market, the greater retail market is expanding. As quarantines continue, e-commerce volumes are growing rapidly, driving demand for just-in-time manufacturing, RFID technology and data centers, warehousing, and kitting.
Adapt and Overcome
To both overcome the current challenges and better prepare for future situations, manufacturing companies envision a future where automation empowers their existing human workforce. Integrating automation technologies into the manufacturing infrastructure will increase collaboration between humans and automation technologies while reducing human touch points and incorporating social distancing recommendations into the production process.
This increased reliance on automation is boosting the core value proposition of robotics, particularly in assembly, vision inspection, and packaging processes. Autonomous feeders, drones, self-driving vehicles, and robots carrying UV lights or delivering chemical disinfectants all will have an expanding role the post-pandemic world, but companies pursuing advanced automation solutions expect to take a phased approach to any integration. Gathering data and establishing success metrics before expanding the integration and focusing on continuous education from the shop-floor workforce to the C-suite will be critical to success.
Smart Factories Produce Big Data
The impact of automation on manufacturing is happening in several key areas, but as we increasingly  integrate more automation into  processes, tools, and systems, the biggest impact may be with big data and advanced analytics.
Data capture and traceability within the manufacturing process begins with both process and technological changes. To be effective, companies must shift from error-prone manual processes to automated systems that capture, store, and manage data. Such systems can include container and part tracking, bar code printing and scanning, or RFID tags.
With a robust data capture, processing, and management system in place, automated processing and scanning solutions can be used in a versatile and powerful real-time data feedback system. By leveraging real-time data analysis, manufacturers can improve cycle times and quality yields by making faster and better process and product decisions.
High-speed, automated assembly and inspection solutions offer opportunities to improve overall throughput by increasing manufacturing uptime and managing predictive maintenance cycles. Monitoring and analyzing manufacturing data in real-time can help predict when asset maintenance is required, moving from a repair-or-replace maintenance model to a predict-and-fix model.
In this Industry 4.0 setting, the biggest beneficiary of real-time data capture and analysis are manufacturers implementing automated inspection and defect detection solutions using vision-based technologies. Deep learning software used in DWFritz's inspection system, for example, relies on data captured by high-resolution cameras to identify cosmetic flaws and defects. The system flags pixels in the images captured during the inspection process to character the anomaly. This tool then detects manufacturing defects (scratches, dings, dents, tears, hair, foreign materials ) that are too complicated for traditional machine vision tools to detect.
The ongoing COVID-19 crisis is accelerating the push for Industry 4.0 as the manufacturing world reacts and responds to this crisis. By analyzing their advanced manufacturing strategies and taking corrective action now, manufacturers can emerge from this crisis stronger and better prepared to overcome future challenges.