Few would argue that 2020 was a transformative year. From the pandemic to racial justice protests and increased efforts to address climate change, this past year tested our entire society's ability to respond and rapidly adapt to various situations and new ideas of normal.
At DWFritz, our world-class team not only rolled with every punch 2020 threw our way, but their extensive contributions and ability to quickly adapt to the ever-changing situation helped the company exceed expectations. With that being said, we take this opportunity to acknowledge some of our key accomplishments from this past year and look ahead to a brighter 2021.
Expanding Product Line
Our ZeroTouch® product line was in the spotlight this past year and met several key milestones throughout the year, highlighted by shipping our first system out to a client. This groundbreaking accomplishment capped a productive year and made for a very happy holiday for the ZeroTouch team.
Earlier in the year, ZeroTouch product portfolio expanded significantly with the launch of the ZeroTouch Gear (ZTG) machine and ZeroTouch Surface (ZTS) products. Our growing ZeroTouch non-contact product portfolio now consists of ZTM-333, ZTG-2580, and the ZTS surface profiler product line.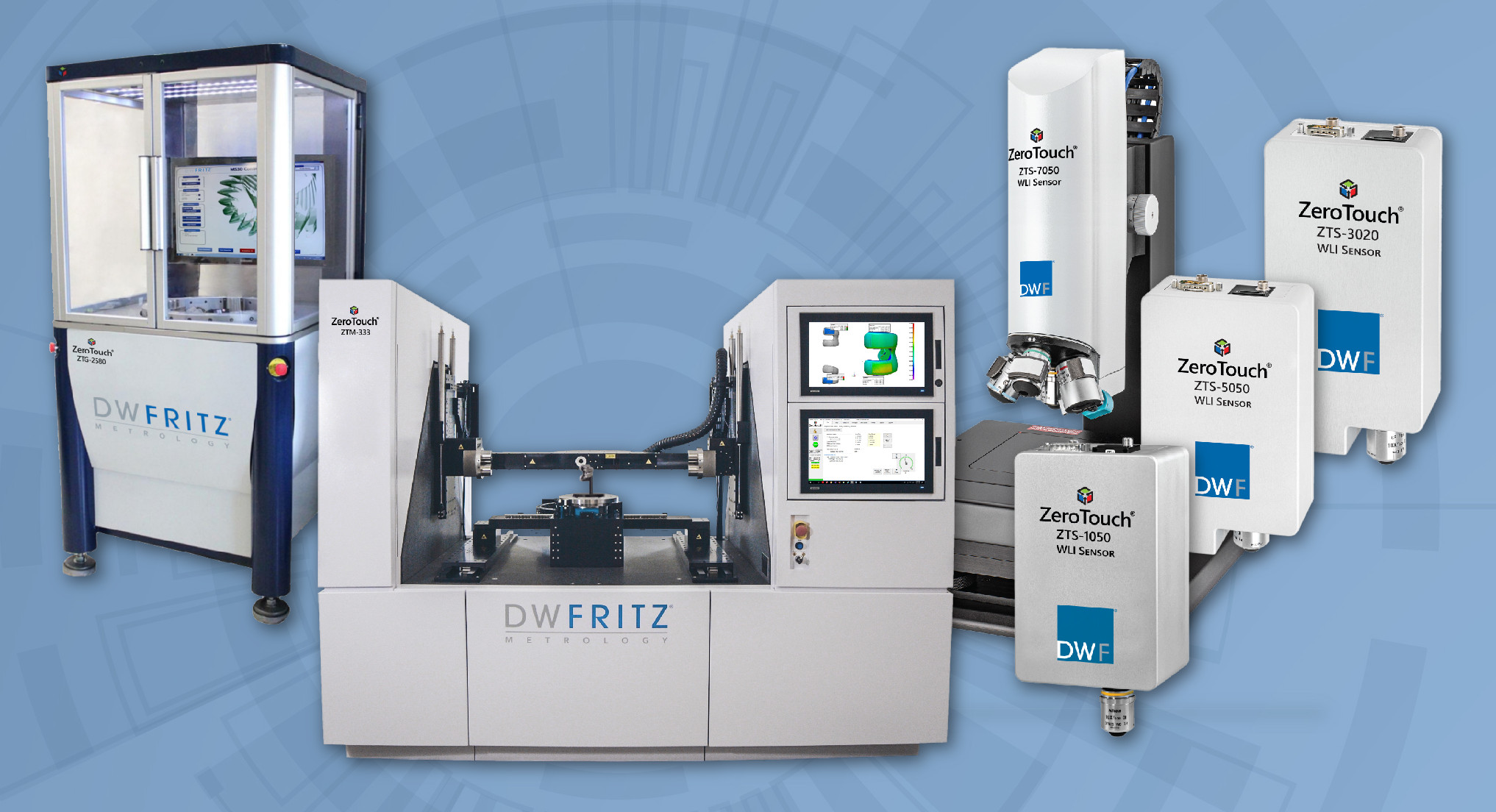 Our ZeroTouch® family of high-speed, non-contact metrology and inspection platforms expanded in 2020 with the additional of the ZeroTouch gear inspection machine and ZeroTouch surface profiling platforms.
The ZTG-2580 uses multiple laser triangulation sensors to acquire millions of data points per sensor, performing 3D inspections of complex geometries and surface defects with speed, accuracy, and flexibility. The ZTG-2580 measures all profiles, including surface defects and roughness of gears up to 25mm in diameter and 80mm in height. By generating a dense 3D point cloud of parts, the ZTG-2580 provides manufacturers with real-time gear metrology and inspection data to help optimize production processes and improve ROI.
The ZTS product line includes five different surface profiling systems based on White Light Interferometry (WLI). These complete solutions perform very high resolution, non-contact, 3D surface measurements quickly and reliably.
ZeroTouch received plenty of attention beyond the walls of our manufacturing facility as well. Many key industry publications highlighted ZeroTouch's capabilities, putting our next generation metrology and inspection platform onto everyone's radar as we enter 2021. But the feather in our cap in terms of accolades was having ZeroTouch recognized by Frost & Sullivan as the 2020 New Product Innovation Leader in the Global Non-contact Dimensional Metrology Industry category.
A Pair of Certifications
The second half of 2020 saw DWFritz Automation achieve two key certifications: ISO 9001:2015 and UL 508A certifications. A globally recognized quality management standard developed by the International Organization for Standardization (ISO), the ISO 9001:2015 certification ensures that companies demonstrate their commitment to meeting the highest standards of quality and customer satisfaction. Achieving this certification confirmed DWFritz's ongoing efforts to continuously improving quality management systems as a competitive advantage.
UL 508A is a standard for the construction of Industrial Control Panels. With this certification, DWFritz's manufacturing facilities can manufacture control panels that bare the UL 508A Listing Mark. This mark provides evidence that the control panel complies with nationally recognized safety standards, including component selection, calculation of short circuit ratings, and proper wiring methods.
New Beginnings: Partnerships and More
As part of our tech partner program, we regularly work with such notable industry leaders as Cognex, Trumpf, and Bosch Rexroth, but in 2020 we forged several new relationships.
In April, we executed an agreement with FANUC, a leading global provider of advanced robotics equipment, to join their Authorized System Integrator (ASI) program as a Level 4 integrator. This partnership allows us to combine our expertise and market footprint, delivering more value to our customers.
In early December, we finalized a commercial and technical agreement with Metrologic Group to bring their industry-leading Metrolog X4 measurement software to our ZeroTouch® metrology and inspection platform. The partnership brings a proven analysis tool to the ZeroTouch platform, providing our customers a fully integrated solution better suited to their specific metrology and inspection needs while increasing our combined market footprint. Metrolog X4 is a proven analysis tool that can accurately analyze and report scans from ZeroTouch, further mitigating the software integration issues common to traditional CMMs.
Our manufacturing floor enjoyed an early holiday surprise with the gift of a new CNC machine. In partnership with our neighbor Selway Machine Tool Company, DWFritz welcomed a new Haas CNC TM 3P toolroom mill. This new tool increases our team's machining capacity and speeds up our solutions for both research and development, and customer deliveries.
Speaking of new beginnings, the new year will see DWFritz contributing to the COVID-19 efforts as we have begun manufacturing DWFritz-branded ASTM Level 2 facemasks.
Corporate Achievements
Saying that 2020 was filled with obstacles would be a magnificent understatement, but our team relishes overcoming the most complex challenges, which positioned us to continue our history of success. To that end, while many others were forced to consolidate business operations, DWFritz opened a new European office in Renne, France – further expanding our global support and strengthening our European position.
Once again, found itself on the Portland Business Journal's list of Most Admired Companies in the Technology and Technology Manufacturing category. However, this year we moved up the rankings to 4th in 2020! And our senior management team earned some much-deserved accolades with a cover article in BOSS magazine. In interviews with CEO Mike Fritz and President Mukesh Dulani, the article highlighted many of our successes during this challenging year and the reasons why the future is so bright.
As Mukesh points out in the BOSS article, "There's no way we would be successful if we didn't have such a strong team. From IT to infrastructure, from our finance team to our admins, we talk about how important it is to keep bringing on good people." And the senior management team came up with an exceptional way to thank all the DWFritz employees for their extensive contributions. Disguised as Santa's Elves, the team delivered carefully assembled gift boxes laden with treats from local Oregon vendors to all employees. A fitting tribute to the hard work and dedication of our global team, and another illustration of our company's authentic and connected leadership.