Office design can affect more than productivity — it has the power to boost morale and greatly impact employee health. Flexible workspaces, communal spaces and natural daylight help create a healthy, productive workplace.
The high tech automation industry is continually disrupting the way businesses work, so it's not surprising how important high performing building design is for supporting innovation. It's critical for companies to offer advanced technology for efficient communication as well as access to breakout spaces for collaboration and quiet focus. But it's not all about work – tech employees also need places to have fun and socialize.
More companies are using physical settings to foster innovation and improve speed-to-market, according to

 

Gensler, an international design firm

.

 

When DWFritz recently moved to a

 

newly renovated building

 

in Wilsonville, the company incorporated design elements that support knowledge sharing, collaboration and a culture of innovation among employees.
Here are three office space must-haves the company used for maximizing interactions and promoting a sense of community.
Sit or stand at an adjustable workstation, duck into a booth in the lunchroom, or jump away from the hustle and bustle into a huddle room — the truth is that everybody works differently. If employees have the option to change up their workspace, they go home less stressed and enjoy greater health in the long run.
Adjustable workstations are linked to increased productivity, improved mental concentration and better overall health, according to a study funded by the American Society of Interior Designers Foundation. Nearly 65 percent of participants reported that standing at their desk positively impacted their health outside of the workplace.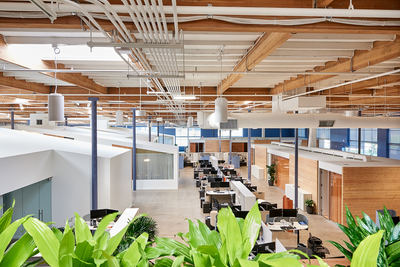 The DWFritz building features open spaces with huddle rooms for collaboration.
Employees are most engaged when they have meaningful relationships with their coworkers. It can be hard to maintain personal relationships from a desk or with eyes down on a laptop, so it's important to provide common areas to hang out.
Research done by

 

Ha

rvard Business Review

 

found that face-to-face interactions are by far the most important activity in an office. Companies can encourage communication by creating areas where employees can have chance encounters and unplanned interactions to share their knowledge. Sometimes circulating, exploring and engaging with coworkers can have a positive outcome on group performance.
Even though DWFritz has a vast open office space, the company has "neighborhoods" with designated spots for a quick coffee break or conversation in a living room-style lounge space. High-traffic spots like the lunchroom, snack area and game room also encourage peer interactions.
Lighting can influence the health and well-being of employees. Researchers at the University of Oregon found that employees with access to better quality lighting, natural daylight and views of nature 
take fewer sick days

.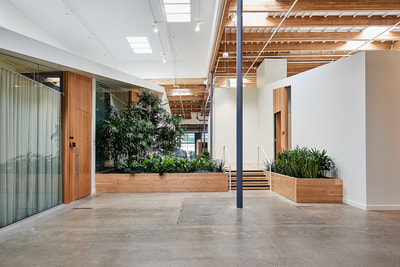 By adding plants and plenty of skylights, the building brings nature inside.
In the frequently rainy and overcast Pacific Northwest, companies have to go beyond gray cubicles and white walls to create a warm workspace that encourages creativity. Multiple skylights and expansive windows bring the outside in, creating a bright environment. Add in large-scale plant installations and nature inspired art, and the workspace feels like a harmonious natural environment.
By bringing the natural daylight inside, employees are also more likely to be

 

physically active

 

and take advantage of nearby walking trails, the company gym and complimentary bicycles.
By using people-centric design and natural elements, companies can attract, retain and encourage innovation among employees.